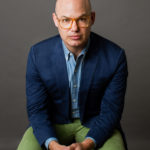 Welcome to my website. I am an Assistant Professor in the School of Literature, Media, and Communication at Georgia Tech. I hold a Ph.D. from the Department of Cinema Studies at New York University. Before coming to GaTech, I was a ACLS New Faculty Fellow in the Film Program at Columbia University and the scholar-in-residence at the New York Film-Makers' Cooperative. In 2013, I was Postdoctoral Fellow at the Smithsonian American Art Museum, working on the institution's Nam June Paik Archive. My new book, Making Images Move (University of California Press, 2020), provides a theoretical and historical framework for understanding handmade moving image practices, from painted film to new media. I am also a co-editor, with John Hanhardt and Edith Decker-Phillips, of We Are in Open Circuits: Writings by Nam June Paik (The MIT Press, 2019).
My current book project, Screening Publics, tells the story of Dara Birnbaum's lost Rio VideoWall (1989), the first multi-screen work of public art in the United States. The piece was noteworthy for its technological innovation as well as for the site that served as its home: the Rio Shopping Complex, a mall in Atlanta's Old Fourth Ward. Birnbaum saw the VideoWall as a "potential center of community activity," and the artwork interlaced a number of ideas that continue to resonate today, including surveillance culture, the 24-hour media cycle, and the Anthropocene. By the time the mall was sold in 1999, however, the neglected artwork had been reduced to an inert monolith. Through interviews and archival research, the book traces the passage of the VideoWall from the openly queer spaces of New York's nightclub scene in the 1980s—where Birnbaum found inspiration for the piece—to the predominantly Black spaces of "intown" Atlanta. A cultural history of video art in public spaces, Screening Publics argues that writing the history of public artworks necessitates the incorporation of public memory in order to understand how different communities make, use, and live with media.
My writing on film and media has appeared in The New Yorker, The Atlantic, October, and Millennium Film Journal, among other publications. I've programmed film and media art at the Film-makers' Co-op, the Museum of the Moving Image, Asia Society New York, the Smithsonian American Art Museum, the Ann Arbor Film Festival, and the Atlanta Contemporary. I recently served as a technical consultant for Ad Astra (20th Century Fox, 2019).
I have also served as a curatorial consultant to the Yale University Art Gallery and the Smithsonian American Art Museum, and have been a musician, video artist, freelance journalist, and former fashion editor.
I hold a BA in American Studies from Yale University, and a MA in Cinema Studies from NYU.
My website, handmadecinema.com, received the 2015 award for "Best Electronic Reference Site," from the Popular Culture Association/American Culture Association.
Background image: Artwork by Liquid Light Lab (liquidlightlab.com)